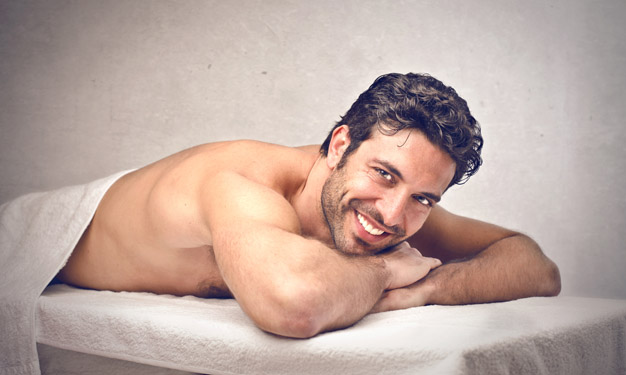 Stretch marks are not found only on a woman's body, men too are prone to these unsightly lines. Those who are more susceptible to these include the ones who are trying to lose weight or are into bodybuilding. Once formed completely, you just cannot get rid of them. So, prevention is cure. Here is a list of things men should do to get rid of stretch marks.
Gaining/Losing weight quickly is like inviting stretch marks
This is perhaps the reason it is often said that you should gain or lose weight slowly and gradually. 1-2 pounds of gain or loss of weight is normal and healthy too. A little more than this poses risk of overstretching of the skin which develops lines.
Provide a well balanced diet to the most exposed part of your body – SKIN
Applying a moisturizer with Vitamin A and hyaluronc acid can avert formation of stretch marks on men's skin. Hence they are required to moisturize their skin, a minimum of two times in a day. The key areas to focus are chest, shoulders and abdomen.
Don't let the free radicals roam around free. Curb them with antioxidants
The vitamins essential for our skin include Vitamin A and Vitamin E. Include them in your diet and eat them regularly. These also help in gaining a healthy body and hence a healthy mind and soul. Men who aren't too fond of fruits can supplement this requirement with antioxidant supplements.
Now check out some of the REMEDIES on how to get rid of stretch marks on men
Let your skin breathe with EXFOLIATION
Use an exfoliator that is especially designed to remove the dead and dry skin of men. This also stimulates new cell formation. Overdoing it is harmful, so don't do it. To get rid of the stretch marks, start with once in a fortnight, this should help you in fading the unwanted lines.
Keep skin soft and smooth with MOISTURIZING
A well moisturized body reduces the appearance of existing stretch marks, use a men's moisturizer that is formulated with ingredients like Vitamin A and hyaluronic acid. These are the kinds of foods your skin loves, to look healthy and stretch mark free.
SUN EXPOSURE is extremely bad
Sun rays won't help you in this case, rather they will make things worse. Stretch marks are resistant to tanning and would turn their color to purple or black. Therefore, protect your skin with a good broad spectrum men's sunblock with an SPF of 30. Also keep your body hydrated when out in the sun.
FAKING A TAN is useful
Men who love to get their skin tanned can make use of a self tanner or men's bronzer that blends well with their natural skin tone. This makes stretch marks less visible.
HOME REMEDIES are useful
Freshly formed stretch marks can be dealt with some ingredients from your kitchen. Here are some of them:
Olive oil. It contains Vitamin E. Just massage it down into those lines every day and see the results.
Potato juice. Freshly squeezed potato juice is laden with minerals which can revitalize skin cells.
Eggs. The inner side of egg white should be rubbed on the stretch marks for fading them off.
Vitamin C. Eat fruits and veggies that contain Vitamin C. When this accompanies glycolic acid supplements, you can expect some really good results.
LASER is effective
If you can shell out enough money, then this is the one for you. Though they have some mild side-effects, the results are worth giving a try.
With the above techniques guys can get rid of stretch marks; some may vanish completely and some will become less noticeable. But the whole thing takes time. So stay patient until then.