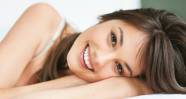 In today"s beauty-centric world, looking good and presentable at all times is a prerequisite. Bright and flawless skin with a youthful radiance can enhance your beauty to great heights. Possessing smooth and bright skin is a cherished dream etched inside hearts of most women.
Age spots, freckles and uneven skin tone are the worst enemies of this dream. There are a number of chemical methods for skin brightening available in the market. These methods however, are very expensive and involve a number of harmful chemicals. You need not undergo these expensive treatments for brightening up your skin. Some ideas to naturally brighten up your skin are:
Limit Sun exposure
One of the best ways to keep your skin looking healthy and bright is to opt for proper sun protection. Sun damage can accumulate over time and show up later. This causes your skin to look dull and lifeless. You must prevent tanning of your skin and apply a sunscreen with appropriate sun protection.
Regular Skin Care
Most of the times, skin becomes dry and discolored because of neglect. Your skin is subjected to the adversities of daily life, such as harsh sun rays, vacillating weather conditions, dirt and pollution. Make it a point to regularly exfoliate your skin and cleanse it. This will help remove the layer of dead cells that often gets accumulated over your skin. Follow up with proper toning and moisturizing. Applying Dermology Skin Brightener on your skin would be an excellent way to brighten up your skin, as this wonder cream can help detoxify your skin and moisturize it properly. Make it a point to use skin care products that suit your skin type.
Balanced and Nutritious Diet
Skin reflects your overall health and wellness. Regular intake of fiber-rich diet comprising of fruits and vegetables will flush out toxins from your body and help in treating hyper-pigmentation. Nourish your skin from inside by consuming atleast 10-12 glasses of water, so that optimum levels of moisture can be maintained and your skin remains hydrated from inside.
Home Remedies
There are many natural home remedies that brighten up your skin more than any other chemical skin brightening method. Some effective ways to brighten up your skin are:
Orange Pack: Dry some orange peels and grind them. You can later make a paste out of it by mixing raw milk and apply to your face.
Flour Bleach: A natural homemade paste out of gram flour, turmeric powder, milk cream and lemon juice can effectively brighten up your skin and make your skin glow.
Honey-Yogurt pack: You can mix honey and yogurt together, and apply it on your face after adding a few drops of lemon juice to it. Leave mixture on your skin for a few minutes before washing it off.
Incorporate healthy habits and quit smoking to achieve better results. These natural skin brightening methods are better than the other chemical-laden methods, which may even harm your skin in the long run.